When it comes to slogan sweaters, nobody does it better than Bella Freud. When Kate Moss famously wore the Ginsberg is God jumper back in the early noughties, the label developed a cult following overnight. Bella's quirky designs, featuring pop art references, have since earned her many devoted fans including Alexa Chung and Laura Bailey. Supermodel Gigi Hadid wore a specially commissioned God created Gigi for a Vogue shoot earlier this year, cementing Bella's status as the Queen of cult knitwear.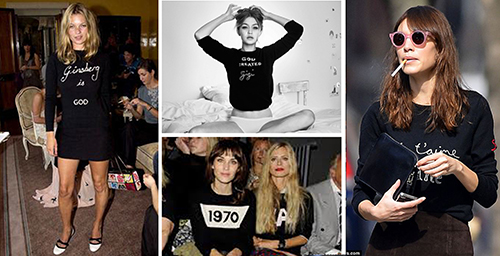 Bella is the daughter of acclaimed artist Lucien Freud, who was responsible for coming up with the Bella Freud logo, a line drawing of his whippet, Pluto. She launched her own label in 1990, with a ready to wear collection, and a catwalk show starring Kate Moss. However, it wasnt until she decided to focus on knitwear that things really took off.
The first stand-alone shop opened on Chiltern Street in Marylebone last year. During the recent London fashion week, fashion blogger Alex Steadman, of the frugality, hosted an event at the shop, and wore the fabulous Anita Pallenberg jumper, which has been a sell-out. Other fashion bloggers, such as the fashion_lift and the stylist and the wardrobe have been quick to follow suit and have been wearing Bella Freud on social media.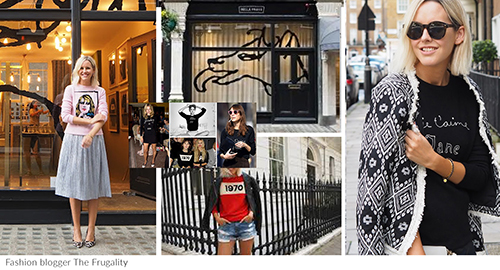 Iris is delighted to be stocking Bella Freud this season. We love the bright red 1970 jumper, one of the coolest motifs, which has been selling like hot cakes. For those favouring a more understated look, check out the multi coloured heart sweater – just the thing to brighten up a pair of black trousers. We also love the Je Taime Jane sweater, which Bella created for Jane Birkin after she misread the Ginsberg is God for Gainsbourg is God. This style has to be one of the most loved and iconic of them all. So if youre looking for a great investment piece that you can wear with anything from jeans to metallic skirts, look no further than a Bella Freud jumper. It is bound to be something you will wear season upon season.
Ps. If you want to buy into the Bella Freud world, but dont want to splurge on a sweater, Iris also stocks a range of candles and matches, all featuring her playful designs.