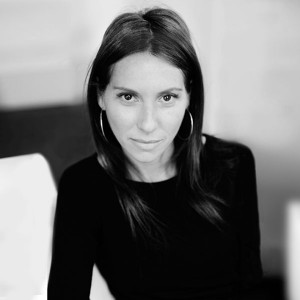 What is your design inspiration this season?
Clean simple lines with a seventies influence in some areas. Longer belted coats, pussy bow ties in palest silks – perfect for layering. Beautiful sharp shifts, shorter coats in gorgeous bright colours too.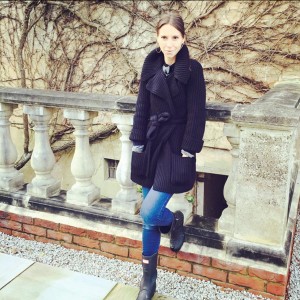 What is your signature style?
I keep things pretty simple. Core wardrobe essentials which I can easily interchange and accessorise ; jeans, trousers (crop, peg and flared) and I always have a beautiful coat.
What are your top three pieces from the current collection?
The Allegra jacket is the perfect trans-seasonal cover-up. In versatile grey, the super soft cardigan can be paired with either tailored trousers or jeans.

The Amy sweater is the perfect addition to your capsule wardrobe. It looks great with both denim for an off-duty look, or tailored trousers for a more formal look.
The Anoushka knit coat is perfect to throw on over anything. I really love the geometric intarsia pattern and its retro feel. It's a tailored approach to knitwear which creates such a strong silhouette which makes it so flattering.
Top three fashion do's and dont's?
Do Invest in good underwear. It's scaffolding.
DoStay true to your own style.
DoBuy better. One beautiful piece of clothing will serve you better in the long run than many less expensive pieces.
Don'tBe a slave to fashion trends.
Don'tOverkill. Make one statement at a time.
Don'tHave VPL. There's no excuse!
What are your favourite labels at Iris?
Isabel Marant and Masscob are firm favourites. I buy a lot of their – shirts and summer dresses.
What's your favourite street in London and why?
Ely Place WC1. This is an historic street and a remains a private road. The police may only enter by invitation only!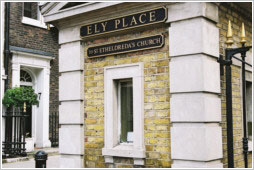 Best place for weekend brunch?
I like the Colony at The Beaumont Hotel. It's a great room and has a very old school feel to it.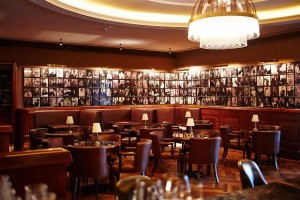 Favourite websites or apps?
Victoriahealth.com for the best supplements and vitamins andFirstdibbs.comfor vintage fashion finds.
How do you relax?
Reflexology.